For Immediate Release.
Surfcomp close first major sponsorship deal with Nova FM:
Surfcomp – Leading Surf Competition App.
New sponsorship deal with the Nova FM brand.
News release today – 15th June, 2017.
To find out how to get your boardriding club involved, contact us below.
Sydney, 15th June: Surfcomp is pleased to announce Nova FM as a major sponsor of the Surfcomp App, supporting grassroot and elite surfing Australia wide.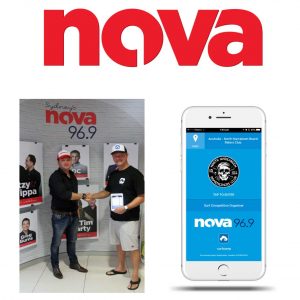 Sean Jenkins, Head of Marketing & Communications at Nova FM said: "We are pleased to announce this prized sponsorship deal. We are eagerly looking forward to working with Surfcomp and supporting their activities to not only promote the sport on the grass roots level, but also to ignite and be apart of supporting razor cutting edge technologies within the amatuer levels of Australian surfing."
"Obviously, we're also pleased to be associated with Surfcomp as not only is their surfing competition app the market leader in technology, but the future is incredibly bright for all of those involved with the company. We pride ourselves on partnering with leaders in the sport of surfing so this partnership is a perfect match," Mr Jenkins said.
"We're thrilled to welcome Nova FM to the Surfcomp family, and excited to team up with an Australian company who values the importance of community & grassroot sporting achievements as much as we do," Surfcomp Founder Greg Gillespie said.
Background: The Nova Network is a group of five Australian radio stations, being one of the market leading radio stations which includes the premier radio show Fitzy and Wippa Nova 96.9. Nova is the #1 metro network in audience share 9.3% and a cumulative audience of 3,507,200 listeners. Nova targets the under 40 audience with the "freshest hits" music format and has the country's #1 drive show, Kate, Tim & Marty and the #1 Nights show, Smallzy's Surgery.
As one of the media industry's most innovative companies and in view of the rapidly evolving media landscape, Nova has a mission to create content that is loved and shared by audiences, wherever they are.
Surfcomp welcomes Nova FM to the surfing family. Surfcomp is the leading surfing competition event organiser, mobile surfing app. Downloadable as a free app from the App Store for iPhones and iPads now.
Greg Gillespie – Founder
www.novafm.com.au/
Surfcomp Australia
P: 0414 619 891
E: info@surfcomp.net